Hello fellow humans
You probably noticed I have been pretty angry this year.
And you know why.  I know you were too.
I am in fuck 'em all mode now so let's move quickly on.
A weird year tho, right? I'd like to say 2020 will be better but I fear it won't.
Christmas will be good though.
I love Christmas. Nesting away from the world with the family. The fridge is full to bursting and the presents are filling up under the tree.
Despite 2019 sideshow of horrors, I have however kept myself very busy.
I wrote another three screenplays and went on another writing course and walked over hot coals and went to Hollywood and pitched a movie to a studio and they fucking liked it.
So that was new.
They didn't buy it.
But damn.
I learned so much over ten days in LA. Meeting producers and managers and other screenwriters and development execs.
The reaction was incredible and everyone I met has introduced me to other people.
I've been meeting UK based producers in the last few months and that has been fucking brilliant too.
Baby steps, like, but to be taken seriously at this level, after years of learning my craft is a really really really really really good feeling. Really though.
I'm going back to LA in March for more meetings and to keep pimping my stories.
I am still working a couple of music projects. And while the idea of listening to endless new bands appals me now, I am still, first and foremost, a fan and very excited about these things below.
GENEVA reformed and it has been great spending time with them and seeing them on small and giant stages again. And particularly excellent seeing the reactions from the crowds. They did some sell out headline shows and played a touring festival and renewed many old friendships.
Seeing the whole Forum singing along to Tranquilizer was one of the year's peaks for me.
They're back doing some shows in February.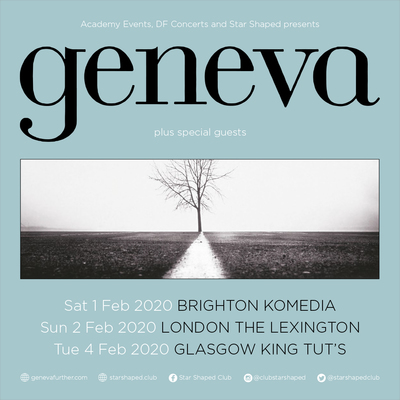 Come and see them. They're really fucking good.
One Little Indian re-released the albums in deluxo 2CD and 2LP formats. They were (very very) painstakingly remastered from the original tapes and they sound massive.
PRIMITIVE IGNORANT
 released his first 
couple
 of 
tunes 
with a singer called Ishani out into the world.  He has nearly finished his debut elpee, coming to you in 2020. The idea was to explore the ground between Nine Inch Nails and Madonna and it has kind of stayed on target. Kind of.  I am super excited to share the this record and the extraordinary guests we have manged to include but it must wait until next year.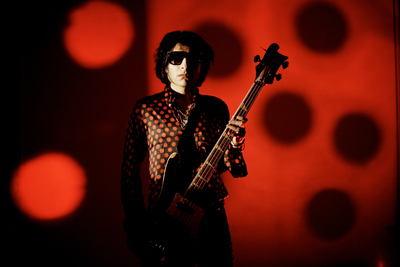 2020 will also see the return of THE SILENT LEAGUE.
Again, more of that in the coming months.
Also…
I had a lot of ambitions when I was a kid and I have achieved many of them: Running a label, managing bands, publishing music, getting a band on TOTP and writing a book about David Bowie.
One that has eluded me, and is increasingly non-viable as ideas go, was to open a record shop.
I came quite close to doing this at a venue in East London this year and have been acquiring stock for some time.
Acquiring stock is my new term for buying too many records.
Clever, no?
Anyway I realised at the last minute: I don't have the time to open an  actual shop, but I still have way too many records; so 
SPACEQUEST is a virtual emporium via the magic of Discogs.
And it's surprisingly easy and lucrative.
Amazing.
Some of the records I bought this year and won't be parting with are…
Angel Olsen                             All Mirrors
Where do I start?  It took me about ninety seconds to fall in love with this record. I have not been crazy about her previous elpees but this is wonderful, dark, jagged strings over epic tales of heartbreak and little electronic pulses and the songs will stay with you forever.
Lana Del Rey                            Norman Fucking Rockwell
Well, another little catch up. This is absolutely magnificent and Lana fully merges with the American dream. Or myth thereof. Super catchy tunes and the production could so very easily have been set to epic but each time, it's dialled back to tantalising.  If you ever liked LDR, or the myth thereof, I suggest you listen up.
Lizzo                                          Cos I Love You
This album is made out of sassy brassy and really quite short tunes. R'n'B lurching back to sixties Motown a bit like Kelis' last effort but a lot more fun and not about food. Speaking of which, Kelis owes us a new record, right?
International Teachers Of Pop  International Teachers Of Pop
Sheffield 1981. Pet Shop Boys and/or New Order 1987. Smart disco. Ten massive tunes. A perfect debut record.  So so addictive.
Hatchie                                    Keepsake
Somewhere between the Cocteaux and the Sundays, but more synthpoppy than her EP of last year, which I am still playing a lot, this is a fun, fun album that is probably not aimed at me but I love it nonetheless.
Chromatics                              Closer To Grey
Another wonderful effort. And a step on. There's a delicate 60s classicism to the songwriting here among the signature 80s touches. The opening cover of The Sound of Silence is a pointer. One of the gigs of the year too at the Roundhouse.
Bruce Springsteen                    Western Stars
Bruce moves onto new ground here. 70s songwriting in a Neil Diamond or Glen Campbell style. It suits him. If you're still not convinced by Bruce, have a go on There Goes My Miracle.
Mark Ronson                            Late Night Feelings
Another surprise. I don't own any of Mr Ronson's other efforts but this does what it says on the tin. Epic sadpop bangers. Angel Olsen, Lykke Li and, best of all, Miley Cyrus bring a touch of class to this brilliant record.
Thom Yorke                              ANIMA
I have not much warmed to Thom's chilly solo efforts but this is super lush, future electronic pop from the future.
Nilufer Yanya                            Miss Universe
Sort of jazzy Elastica? Hmmm. In a good way. Obviously. Freewheeling guitar work from this lady combines an effortless London cool with a definite Lower East Side circa 10 years ago, swagger. Probably a few songs too long but it's a great debut.
Dave                                          Psychodrama
Not my usual cup of tea but this is a smart smart album. The kids love him.
Tyler The Creator                      Igor
I can't say I listened much to this man before and it is very hard to put a finger on what this album is. It's not exactly rap. And not exactly not. But it's very now and strangely beautiful and hugely deranged.
Michael Kiwanuka                   Kiwanuka
Wasn't bothered by this man before either but this is effortlessly great and will be listened to for years to come.
Mercury Rev                             Bobbie Gentry's The Delta Sweetie
The Rev recruit all your favourite sad lady singers and make something wonderful. Sort like Mazzy Star, if that helps, and indeed Hope features.
Cate le Bon                              Reward
Cate walks a delicate, wonky and very precise path of her own here. Reveals itself over repeated plays to be a bit of a masterpiece.
Dangermouse + Karen O        Lux Prima
Very slightly less great than I had hoped but still streets ahead of most everyone.
Specials                                    Encore
I ignored this for a long time, worried it would suck. It does not suck. If you think you might like it, you will.
Delta Mainline                          Bel Avinir
A mixture of SFA, Spiritualised and Flaming Lips that reaches for the stars and just about makes contact. New from Scotland.
Big Joanie                                Sistahs
Scratchy London girl pop on Thurston Moore's label. Really excellent tunes.
Miya Folick                               Premonitions
Sort like Sinead or Courtney but not.  A star in the making.
Health                                      Vol 4: Slaves Of Fear
Fat White Family                             Serf's Up
All their previous work was horrible. This rules-free widescreen mutant pop is ridiculously great though. Listen to Feet.
The Regrettes                           How do you love?
Amazing punky cheerleader pop in a ShangriLas style
THEY ALSO SERVED…..
Snapped Ankles                      Stunning Luxury
Prince                                       Originals
Crumb                                      Jinx
Danny Brown                           uknowwhatimsayin?
Black Pumas                            Black Pumas
Patio                                         Essentials
Sharon Van Etten                     Remind Me Tomorrow
Prins Thomas                            Ambitions
Weakened Friends                  Common Blah
Miley Cyrus                              Bitch, I'm Back
Jamila woods                          Legacy! Legacy!
Madonna                                 Madame X
Article 54                                 The Hustle
Some excellent EPs.
Ghum                                        Coldest Fire EP
Edan + homeboy sandman    Humble Pi EP
Glass Candy                             NAKED CITY EP
VARIOUS                                    INTERNATIONAL DISCO MAFIA 2 EP
FILMS OF 2019
Joker (just a masterpiece that had me gripped from start to finish)
Booksmart (you would like this. It's very very funny)
Stand-off At Sparrow Creek  (sorta Militia conspiracy nutters version of Reservoir Dogs)
1917
The Irishman
Once Upon A Time In Hollywood
Her Smell
Star Wars The Rise Of Skywalker
Spiderman: Far From Home
Captain Marvel
JoJo Rabbit
John Wick 3
Glass
The Great Hack
Fighting With my Family  (very very funny)
The Favourite
Us
Longshot
Zombieland Double Tap
Angel Has Fallen
Rocketman
Alita Battle Angel
I Am Mother
Iron Sky: The Coming Race
I think I saw more really expensive duds this year than any other. Too many to list but I will say the first 30 minutes of Hellboy was absolutely the worst film I have ever seen in terms of getting literally everything wrong, plot, acting, dubbing, lighting, editing, directing. They killed it.  It's dead now.
That's it.
A shout out to Kewpie mayonnaise and sesame source, which made the year better.
But for true condimental next level joy, I urge you to try Fortnum & Masons truffle mayonnaise.
Condiments are the best, eh?
Good luck next year and have a very excellent Christmas.
David
x
PS Shout to to finally achieving World Peas